Gatwick Airport will introduce an electric car-sharing service
September 5, 2018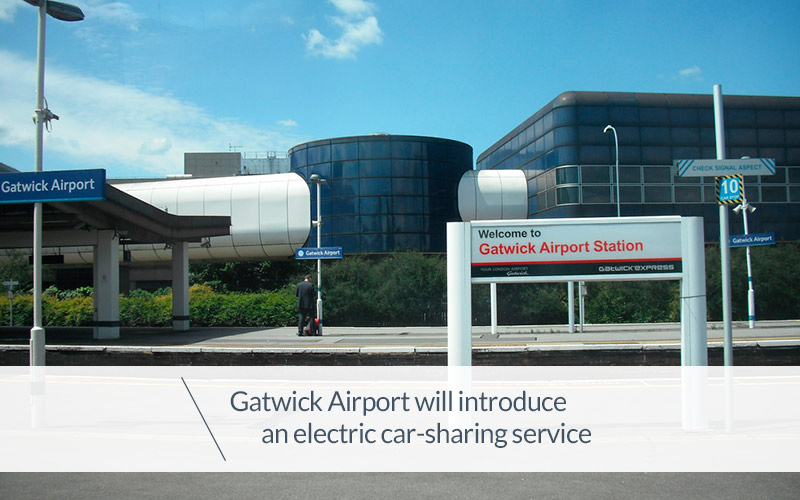 In a previous article published on our blog, we underlined the environmental focus occuring in London. Over the years we have seen it overcome its image of a polluted and smog-ridden metropolis to become a beacon of light for eco-sustainable development.
The announcement issued by Gatwick airport with the introduction of a car-sharing service using only electric cars is another step in this direction.
Zero emission transport for Gatwick Airport, London
Together with the company Bluecity, Gatwick Airport (London) will offer passengers a zero impact car-sharing service, using only electrically-powered cars.
To kick-off, the service will make 10 electric cars available, plus the necessary charging stations.
The goal, in any case, is to augment the fleet over time providing an increasingly 360° service.
Via a handy app, it will be possible to advance-book a car, to use to go to or leave from Gatwick Airport, picking up and returning the car in one of the 300 drop-off locations just in London.
Besides being green, the service is highly economical too.
A trip to or from the airport will come in at just 15 UK pounds.
"We are particularly proud of this milestone agreement with Gatwick Airport and look forward to our collaboration for years to come. We believe this new service is a fantastic solution for travellers. Our cars are powered exclusively with 100 percent renewable energy making the service the greenest and most affordable transport option to and from central London."
stated Bluecity's Managing Director, Christopher Arnaud.
Gatwick Airport: continually greener and more innovative
This is not the first time Gatwick Airport has undertaken such a project. The entire airport takes 100% of its energy from renewable sources, which is part of the commitment made by management to reduce the environmental impact of a hub that is so important both London and the UK in general.
Here follows a statement by Guy Stephenson, the chief commercial officer for the airport:
"Gatwick leads the way in airport innovation and this UK airport first not only offers a new, flexible option for getting on and off the airport, it also improves air quality."
A service right in step with national trends
This electrical car sharing service announced by Gatwick Airport is not just a fashionable trend of the moment or a laudable solution to solving the problem of emissions from the facility. It actually is in synch with a trend increasingly common across the country.
The UK government for a while now has been focusing on ambitious objectives to reduce transport carbon emissions, coming down in strong favour of sales of electric vehicles.
Indeed it is estimated that by 2030 there may be as many as over 36 million electric cars circulating in the UK.