"The City" of London will be 100% run on electricity from renewable sources
July 20, 2018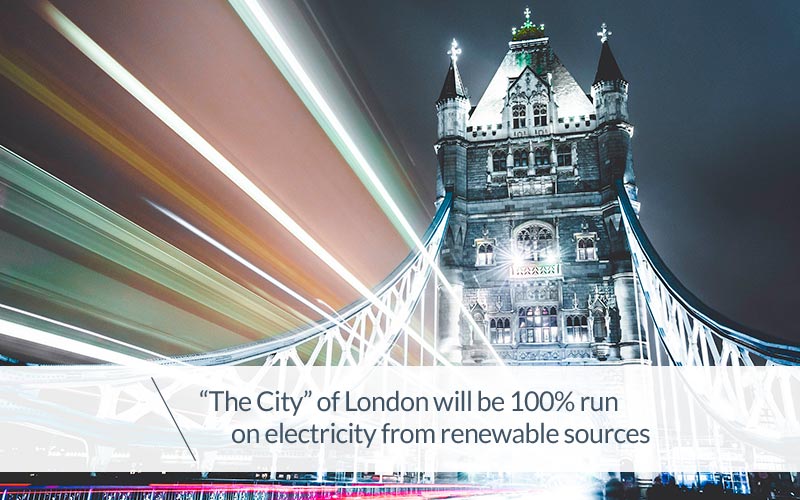 London, the emblem of the industrial revolution and sadly known for the smog and pollution produced by coal power plants (and not only), over the past few years has been undertaking a clean-living, energy conversion approach, which has made it one of the most eco-sustainable metropolises in the world.
In the wake of this trend, a recently-announced decision has been made to fully supply the city entirely via the use of energy produced from renewable sources, starting with The City.
The Square Mile is going green
The Square Mile (the financial district of London, known colloquially as The City) is super-interested in this very real energy revolution.
Starting from October 2018, this area of London will be entirely run, to the exclusion of all other energy sources, by renewable sources, reaching the important goal of 100% clean energy.
How will energy conversion happen in The City
What has transpired to date is that the project will include the installation of solar panels on local buildings, investment in large-scale solar and wind projects and the purchase of clean energy from the grid.
In detail, it would appear that the City of London Corporation will make agreements with several sites across the Square Mile, such as schools, public buildings, markets and green spaces, which will house the renewable energy systems.
"Sourcing 100% renewable energy will make us cleaner and greener, reducing our grid reliance and running some of our buildings on zero carbon electricity" stated Catherine McGuinness, president of the City of London Corporation.
"We are always looking at the environmental impact of our work and hope that we can be a beacon to other organisations to follow suit."
Decisive action now and a message for the future
The transformation of a district which is home to a very-alive and throbbing financial centre, the symbol of modern capitalism and technology, will not only mean improvement in the quality of the air that local citizens, tourists and the workforce breathe, but it also sends a strong message out about the near future.
Large cities, which are highly polluted and shouldering a massive carbon footprint, can make a real difference and can drive the process of energy conversion right across the world.