The importance of Artificial Intelligence for the Telecommunications Industry
September 21, 2018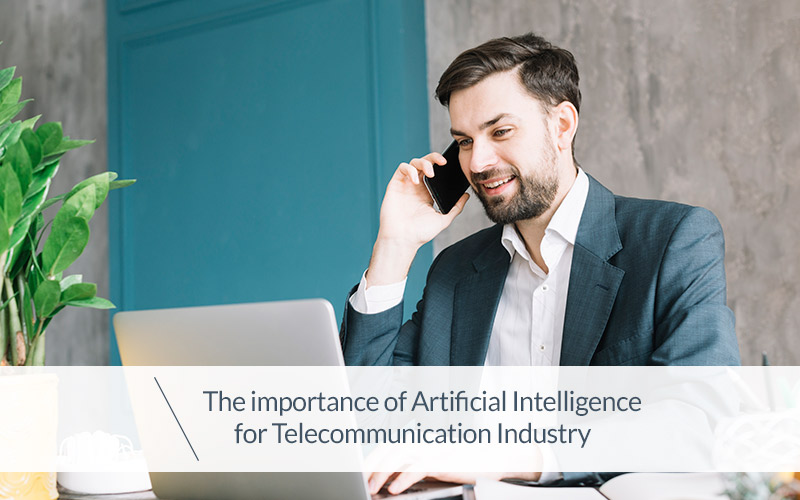 The Telecommunications Industry simply cannot avoid moving forward, following in the footsteps of technology. As often happens, it tends to adopt the latest innovations, in particular, digital ones.
Smartphones, home automation, IoT, video surveillance, cloud services, computer architecture for large volumes of data, hyper-converged systems, 5G networks: these are all technologies which can hardly go unnoticed by players in the Telecommunications Industry, making the sector both increasingly complex and comprehensive.
For this very reason, it ought to be considered to be a well-developed sector for solutions based on Artificial Intelligence.
Why create solutions based on Artificial Intelligence?
Many telecommunications players have begun experimenting with creating solutions based on AI, with varying goals in mind. These include monitoring operations, maintenance, safety and client care.
In an interview conducted during the Mobile World Congress 2018 in Barcelona, held between the 26th February and 1st March, Heavy Reading's Senior Analyst, James Crawshaw, determined two motivating factors for implementing machine learning and Artificial Intelligence in the telecommunications industry.
Let's take a look.
Improving Contact Centre effectiveness
Nowadays consumers are used to interacting with automated systems regards customer care, at very least for operations which really do not require human intervention.
According to Crawshaw Artificial Intelligence ought to be used to make a contact centre more effective. This would allow more requests to be dealt with simultaneously in less time, thus improving customer experience.
In this way workers would be able to dedicate their time to solving more complex issues, thus optimising costs too.
Increasing revenue
Another goal to reach via the use of services based on the use of Artificial Intelligence is a revenue increase for telecommunications players.
Over and above an increase in revenue due to cost reductions due to the implementation of AI, Crawshaw suggests implementing the technology in business marketing.
Finding new specific solutions, via data analysis and machine learning, may permit company marketing departments to identify more effective product development and sales processes, maybe even personalised, made-to-measure for consumers who highlight very precise needs.
Here follows a video interview conducted by Light Reading magazine.
Risk assessment and security
Over and above the two areas indicated by Crawshaw we have previously touched on, we need to underline the importance the role AI could cover, and in part already covers, in solving problems and more importantly in predicting problems.
Through highly complex systems, we can, in fact, identify problems before they actually occur. We can then calculate the costs associated and the best route for solution plus a timeline.
Predetermination would allow considerable savings of both human and economic resources, besides making a highly effective technical service available.
To sum up
We should always bear in mind that AI-based solutions and machine learning will only become a consolidated part of telecommunications solutions over time. In particular, they will follow increased diffusion of the 5G network.
It's yet further confirmation of the very central role that this new technology plays in the entire future development of telecommunications.