The number of 5G connections is forecast to grow to 1.1 billion by 2025
July 11, 2018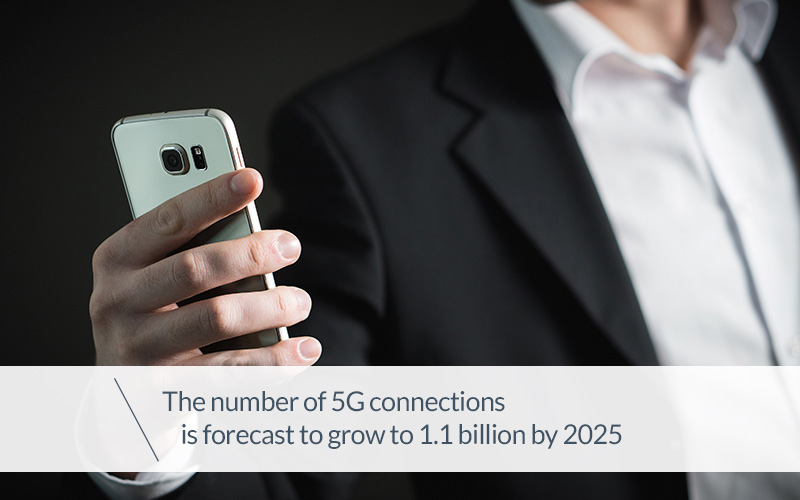 Mobile connection speed is a key element in the telecommunications sector, a challenge which providers seek to tackle providing the very best of solutions.
A very interesting report by GSMA Intelligence named "The 5G era: Age of boundless connectivity and intelligent automation" tells us to expect a sizeable increase in the number of 5G connections, reaching 1.1 billion by 2025.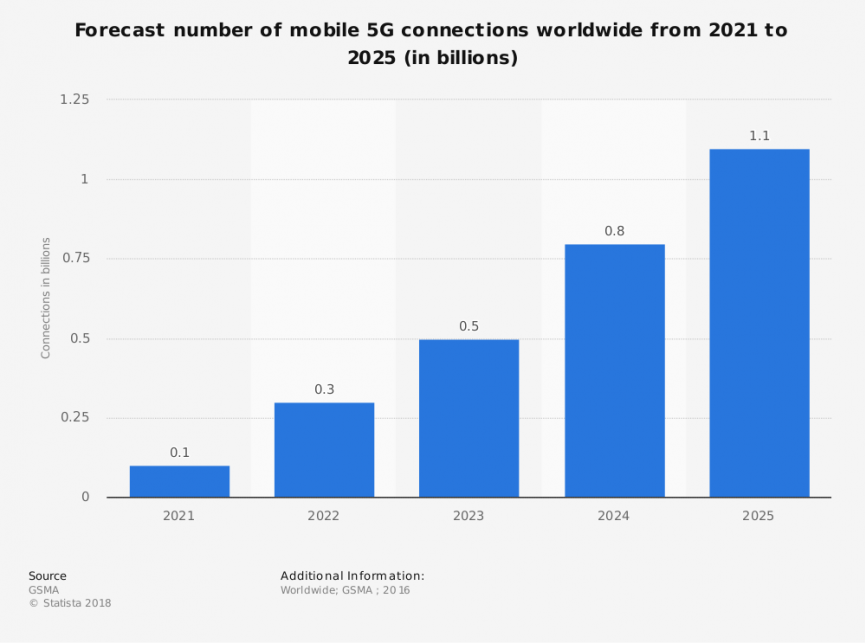 5G connectivity: a chance not to be missed
The executive summary of the GSMA report, signed by the General Director Mats Granryd, contains this very interesting piece:
"5G is more than just a generational step; it represents a fundamental transformation of the role that mobile technology plays in society.

As demand for continuous connectivity grows, 5G is an opportunity to create an agile, purpose-built network tailored to the different needs of citizens and the economy."
Compared to the current 4G connectivity, the 5G will be faster and more stable for billions of devices, even for the ever-increasing internet of things sector.
Effectively, it is a large step forward for all sectors which involve consumers.
The evolution of mobile industry and connectivity
The mobile telephone sector has undergone impressive change over the course of thirty years. It has changed our way of life, our access to information, the way we consult content and our interactions with other people.
The first 2G connections at the beginning of the 90s, 3G at the turn of the century and now the current 4G have all been part of the first real major transformation in the telecommunications sector. Smartphones and mobile devices have been an intrinsic part of this transformation, and providers have offered consumers an increasingly better service and at lower costs.
According to the GSMA, the post-2020 period will show significant usage of 5G connectivity, to the extent that we may define it as the "5G era".
As we mentioned at the start of the article, estimates suggest that 5G coverage will be at 1.1 billion devices by 2025, which equals 12% of total devices connected to the mobile network.
This data means an annual rate of growth of 2.5% for businesses in the sector. That translates to a market value of 1.3 trillion dollars by 2025.
Not just for mobile phones: 5G applications
Development of the 5G network will not only have direct effects on the quality of connections for smartphones, tablets and various mobile devices that we possess, but will also affect functional applications in other areas:
artificial intelligence

IoT

big data

augmented reality

cybersecurity
Investing resources in the construction of a 5G network allows us to improve the quality of data and information transmission. This translates to knock-on effects in practically all economic sectors, including the public sector, and also on infrastructural planning.
10 takeaways on 5G
The GSMA report included 10 takeaways which highlight the importance of 5G connectivity.
Here they are:
5G will transform the mobile broadband experience in early deployments and drive new intelligent automation use cases in later phases;

5G as a technology will evolve over time and leverage a variety of spectrum ranges, plus robust security, to support new use cases;

enterprise services and solutions will drive 5G's incremental potential;

5G will start as an urban-focused technology and integrate with 4G to provide boundless connectivity for all;

5G will deliver revenue growth to mobile operators, with a 2.5% CAGR in the early 5G era;

competition and collaboration between operators and other ecosystem players to provide services will intensify in the 5G era;

new models for infrastructure ownership, competition and partnerships will be required for the 5G era;

regulation, licensing and spectrum policy will make or break the 5G opportunity;

the industry should strive to avoid spectrum and technology fragmentation for 5G;

interoperable and interconnected IP communication services, including device-to-device should be supported as default in the 5G era.
In conclusion
The telecommunications sector is facing a hugely complex scenario, bursting with challenges which include the development of increasingly-efficient infrastructures.
Trends suggest that there will be growth, specifically in the 5G sector, but decisive action is required to make it become a solid reality.