The benefits of 5G for your business
December 5, 2018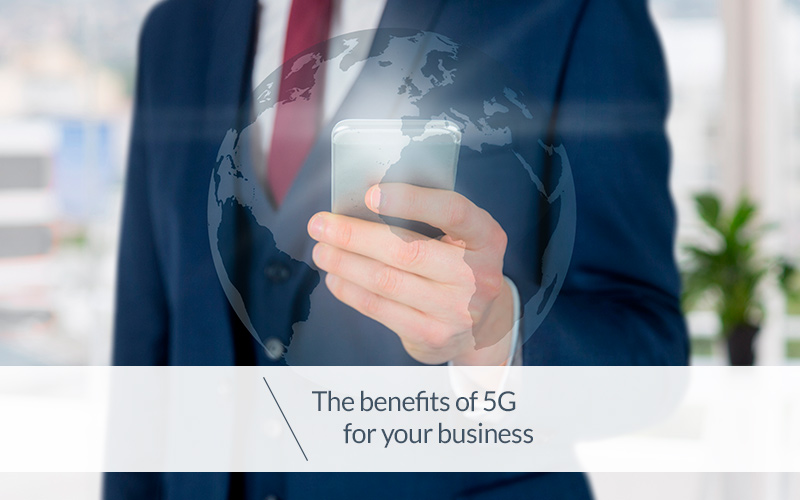 5G isn't just a technological step forward for telecommunications businesses, and it doesn't simply improve the services enjoyed by the end users.
Being able to connect to the super-fast 5G network, in the end, will facilitate the digitalisation of businesses.
Some countries, such as South Korea, China, Japan and the USA, are just about ready to launch the first 5G networks by 2019, whilst in Europe rollout should occur for 2020.
Sooner or later, 5G will be a reality, giving businesses new opportunities to exploit.
5G will create 22 million jobs by 2035
A study by Qualcomm, entitled "Landmark Study on Impact of 5G Mobile Technology Released" forecasts that the 5G network will create 22 million jobs by 2035, creating products and services for a value of approximately 12 trillion dollars.
Over time, 5G will also stimulate real growth of global GDP by 3 million dollars cumulatively between 2020 and 2035.
These numbers suggest that the 5G network will become not only a technological innovation but also an asset for the economy, on a scale equal to electricity and the motorised vehicle, entirely transforming our society.
How 5G can benefit businesses
We have highlighted the importance of the introduction of the 5G network into the economy, but how will it actually have a positive effect on businesses?
Here are some of the advantages of the 5G network:
increased productivity: higher network speed will allow businesses to undertake tasks faster, which in turn will allow them to offer more services in less time. This represents a net saving and an increase in revenue;

cloud storage services: up until today, cloud storage for businesses has been a great way to keep files safe and to share them with work teams. 5G will take this to another level. The economy will move from being hardware-based to being cloud-based;

smart-work: remote working, especially for some professions which can operate entirely via a network connection, will facilitate collaboration at a distance, giving rise to several advantages, not just for the companies but also for the environment. Indeed businesses can avoid investments in larger headquarters and offices, workers will no longer have to move between their homes and work locations, thus reducing traffic and smog;

connecting rural zones: in some countries, for example India, the 5G network means a huge opportunity for connecting rural areas. This will enable the development of new businesses and will allow existing businesses to grow;

smart offices: 5G applications in IoT make both these technologies very interesting regards the development of smart offices. This means offices that are online, efficiently managed, with optimisation of costs and avoidance of resource wastage;

connected cities: 5G networks will be able to connect entire cities, making transport and public services more efficient, improving the way that businesses can interact with each other all within a shared environment;

e-commerce and retail: better connections, augmented and virtual reality, more efficient integrated logistics systems, personalised buying experiences and more. The 5G network will permit never-before-seen online and in-store sales.
These are just some of the main advantages that will result from the introduction of 5G. But they are sufficient to demonstrate the vast potential for businesses (local and others) in the near future.
The 5G network is effectively the real driver of the 4th Industrial Revolution, the so-called 4.0 Industry.