Global Automotive Digital Key Market is going to grow by 2022
December 13, 2018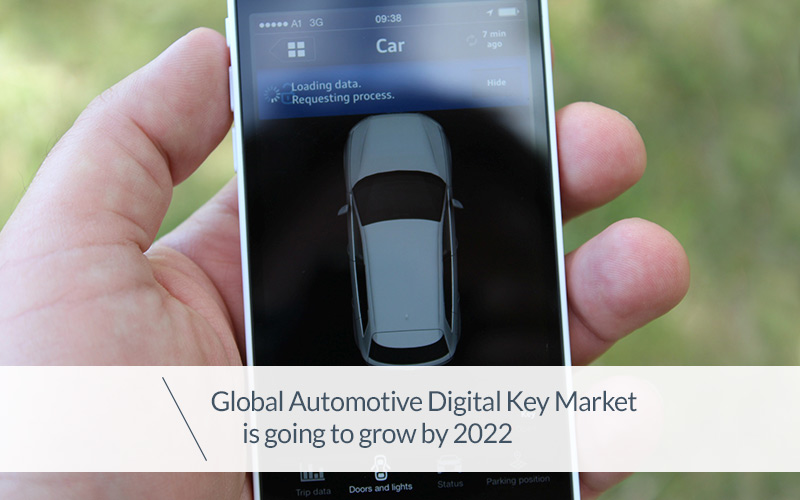 Automotive Digital Key means a tool which will permit us to use our smartphone as a vehicle access key, to maybe open or close doors or start the engine. It uses NFC (Near Field Communication) or Bluetooth.
According to the Radiant Insights Inc. findings, presented in the report "Global Automotive Digital Key Market 2018-2022" published in January 2018, we shall witness a 10.53% growth in this technology by 2022.
This particular growth is part of an overall bigger picture associated with the concept of the connected car.
The digital revolution is changing the automobile industry
World automobile manufacturers are aware that they must offer consumers increasingly advanced integrated services, thus creating "smart" vehicles, due to the IoT revolution.
It really is a revolution, pushing the sector to innovate more in 10 years than it ever has over the last 50 years.
Vehicles will be increasingly net-connected, especially in the cases of electrically-powered cars and autonomously-piloted cars.
Mobility as a service
Don't simply interpret the digital and Automotive Digital Key revolution as another set of advanced optionals, which is the norm. This is a new way of interpreting mobility.
Digital life will produce, and in part has already produced, a drastic change in the business model. The sale of an asset (vehicle) will be replaced by the supply of a service - the service being 360° mobility.
Carsharing, longterm rental and on-demand services will become central to the automobile industry, changing the way businesses present their services to the market.
It's a challenge we need to accept and tackle head on. With it will come multiple unknowns, not just economic ones.
Safety concerns will be affected by this transformation, as indeed will the functionality of the vehicles.
The revolution is worldwide
The Radiant Insights Inc. report takes a look at world markets, specifically:
North America:
Europe:

France
Germany
Italy
Spain
UK
Rest of Europe

Asia Pacific:

China
Japan
India
Australia
New Zealand
Rest of Asia Pacific

Middle East:

Saudi Arabia
UAE
Rest of Middle East

Latin America:

Argentina
Brazil
Rest of Latin America

Rest of the World:
There are two specific segments which will undergo a faster and higher growth. They are the North American and Asian-Pacific markets.