What you need to know about the EU Euro 7 standards
May 3, 2023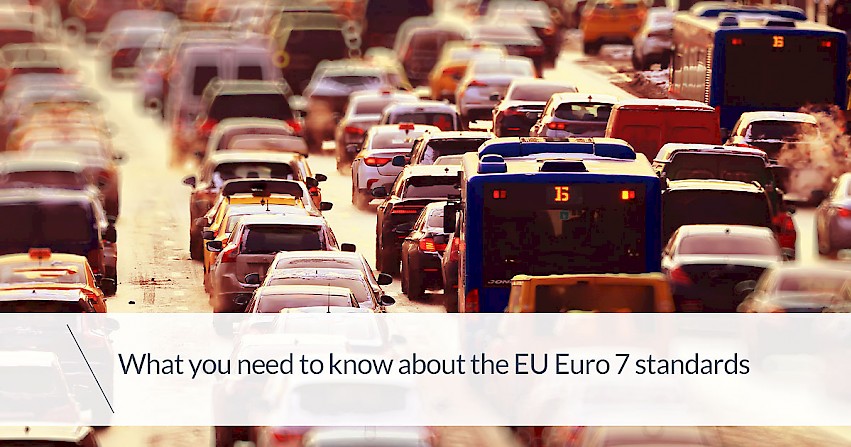 The Euro 7 law proposal put forward by the European commission aims to tighten limits on harmful substances, including nitrogen oxides (NOx), declaring that benefits would outweigh costs in the long term.
Member States, who find themselves obliged to legislate on this topic, and manufacturers, have cited many objections regarding this new proposal, stating that, in the face of evident negative effects in economic terms, in particular regarding the European automotive industry, there would be not enough positive effects on the environment sufficient to justify such heavy-handed intervention in the sector.
The European Commission versus vehicle manufacturers
According to EU Commission estimates, in 2035 adherence to Euro 7 standards would permit:
A reduction in total NOx emissions produced by cars and vans by 35% compared to Euro 6, and by 56% compared to Euro VI for buses and trucks.
The reduction of exhaust particle emissions (PM) by 13% for cars and 39% for buses and trucks.
The reduction of passengers' vehicles brake wear PM emission by 27%.
Manufactures, however, are in disagreement over these estimates. For example, according to a study conducted by ACEA - European Automobile Manufactuers' Association, the comparison of nitrogen oxides, with or without the tighter legislation envisaged by the Euro 7 conditions, shows a minimal advantage with the Euro 7 application.
According to ACEA statements, the direct effect of conforming to Euro 7 standard would be the relocation of vast amounts of human and economic resources away from electrification programmes towards investments aimed at activating new technologies for combustion engines, thus slowing down efforts in reaching 2050 zero carbon targets.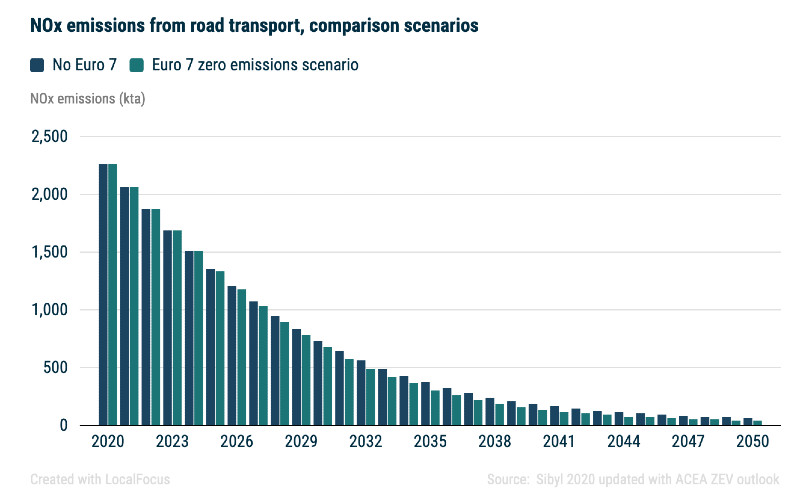 What exactly are the Euro 7 standards?
On November 10th of last year, the European Commission presented a new proposal to reduce atmospheric pollution caused by new engine-powered vehicles sold in the EU, with the aim of reaching the goal of zero carbon emissions by 2050, as cited by the European Green Deal, whilst maintaining realistic prices for consumers and promoting European competitiveness.
The proposal takes into account all climate-changing emissions from exhaust pipes, brakes and tyres, including all vehicle types, whichever their fuel and engine type.
The new rules proposed by the European Commission are indeed neutral in terms of fuel consumption and technology, as they have the same limits whether or not vehicles are petrol or diesel-fuelled, have electric transmission, or use alternative fuels.
The Euro 7 standards unites every vehicle type (that is to say, cars, vans, buses and trucks) in a single regulation system regarding emission limits, differently from Euro 6 and Euro VI which sought to set different standards for cars and vans compared to heavy duty vehicles.
So, shortly what are the changes introduced by the European Commission?
For all cars, vans, trucks and buses:

new limits on brake emissions;
new regulation on the pollution due to tyres wear;
vehicles must respect legislation regarding emissions for a longer time period;
more efficient emissions testing;
digital monitoring of conformity;
improved tests for market supervision.

For vehicles with internal combustion engines:

zero-exhaust emissions from 2025 (cars and vans) and zero-exhaust emission from 2027 (heavy-duty vehicles);
regulations for other pollutants;
road testing across a wider range of driving conditions.

For electric and hybrid plug-ins:

new standards regarding battery duration.
For further details, we invite you to view the complete proposal available on the European Commission's site.
Goals for the Euro 7 standards
The goals that the new standards mean to reach are the following:
better control over polluting emissions for all new vehicles;
updated limits on polluting emissions;
regulate emissions from brakes and tyres;
ensure that new cars remain environmentally-cleaner for longer;
encourage the adoption of electrically-powered vehicles;
take advantage of all digital opportunities.
Reactions were mixed to say the least, with vehicle manufacturers and Governments that have communicated their discontent with the European Commission's proposal, citing an inevitable increase in the cost of vehicles in the near future, and asking, in some cases, a deferment or a date change for the application of the new legislation.
This topic is central to debate with Europe, and involves the individual nations, the entire European Community and vehicle manufacturers based in Europe - we are going to have to sit tight for a few months to see what happens.