The global telecommunications services market: 2012 - 2019 data
June 11, 2018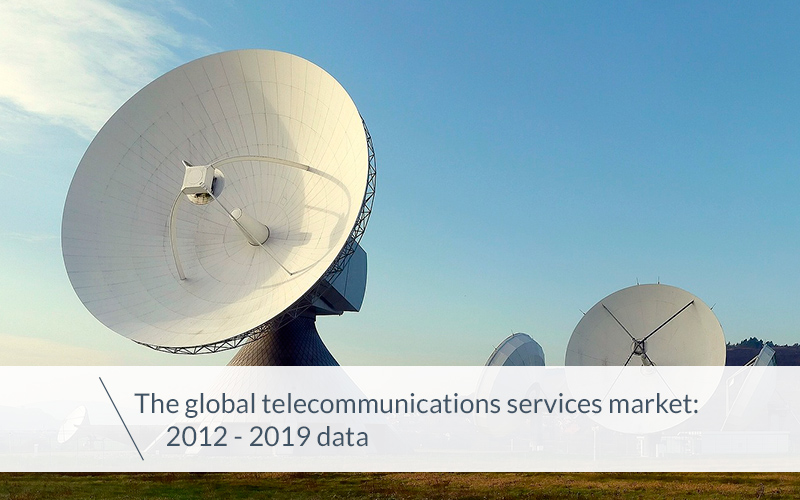 The telecommunications services sector has been in a constant growth phase for several years now, as shown by data analysed by IDATE DigiWorld, shown in this graph calculated by Statista.com, with the exception of Europe (blue) which we will discuss later in detail.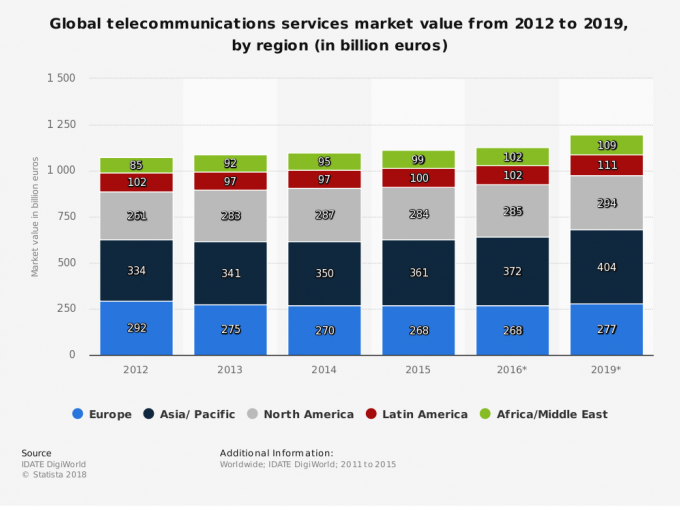 The data shows telecommunications services' global revenue from 2012 to 2015, split by region, including a forecast for 2016 to 2019.
The following graph, on the other hand, shows the global revenues for the telecommunications services sector from 2005 to 2019 ( in € billions).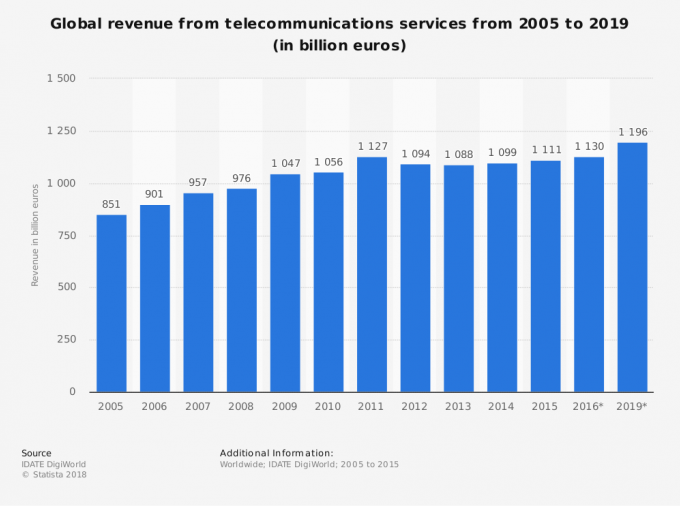 As can be seen, 2011 was a great year for the industry, with global revenues reaching 1,127 billion euro, followed by a drop (but yet still with higher revenues compared to pre-2011 years).
We forecast a new sales climax in 2019 equal to 1,196 billion euro. It's worth pointing out that the greatest growth in the world is in the Asian/Pacific area with an estimated revenue of 373 billion euro in 2015.
The European situation
Revenues in the European telecommunications services sector were 292 billion euro in 2012. However, since then they have been in constant decline, as shown in the graph.
Indeed from 292 billion in 2012, we are at 275 billion in 2013, just 270 billion in 2014, 268 billion in 2015 and in 2016.
We do forecast a slight increase compared to the falls in the previous years, and for 2019 we should see the figure at 277 billion euro.
The world situation
Global revenue from telecommunications services should reach almost 1.2 trillion euro in 2019. That means constant growth in all areas outside the EU; Asia/Pacific, North America, South America, Africa and the Middle East.
The telecommunications services market with the highest growth in 2016 with an estimated value of 372 billion euro in 2016 is the Asian/Pacific region, followed by North American and then Europe.
Increasing market dimensions
The dimensions of the telecommunications market have increased over the last two decades. This is due to newer and more economical technologies, particularly the internet, which have given rise to unprecedented access and demand for communications channels
And we shouldn't underestimate the vast improvement in the quality of human resources employed in the industry, increasingly qualified and specialised, plus an increase in investments in new technologies.
Features of the telecommunications services market
The telecommunications services market is principally made up of two services:
Wireline services: landline connections and landline broadband access
Wireless services: mobile connections and mobile broadband access
For telecommunications services suppliers revenue largely depends on the sales of subscriptions and other commissions applied to individual users to access functions not included in their package.
Largest world operators
This sector has, over the years, seen entry by numerous operators both large and small. But the two main players (both regards revenue and user numbers) are from the USA, with a turnover of 95 million US dollars in 2014 are:
AT&T, a multinational, HQ in Dalla, Texas
Verizon Communications, HQ New York
In other regions there are three companies which have registered noteworthy results, of which two are European:
Deutsche Telekom (Germany)
Orange (Francia)
China Mobile (China)