Natural gas in Europe after the 2022 crisis
June 7, 2023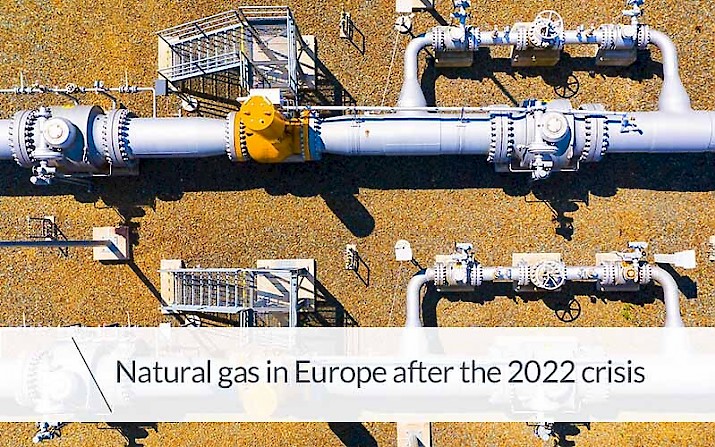 The global natural gas market took a hard hit in 2022, putting gas procurement under unprecedented pressure and triggering a global energy crisis.
The Organization for Economic Co-operation and Development (OECD), a forum where the governments of 37 Countries of the European area collaborate to develop policy standards to promote sustainable economic growth, has immediately put the situation under scrutiny, identifying which regional economies are most exposed to rising gas prices on the basis of their dependency on gas intensive sectors as, for example, chemicals or basic metals.
Based on OECD calculations, the employment shares of the most gas-intensive manufacturing sectors are largest in some regions in Central Europe and Northern Italy, as well as in certain regions in Sweden and Finland.
Despite that, European countries have managed to amply fill their underground gas storage facilities, assisted by targeted political policies, by a record influx of NLG (natural liquid gas) while trying to decrease consumption, above all in industries operating at high energy usage.
Reductions in Russian pipeline gas has had an effect on gas-consuming regions outside Europe, with record prices, procurement tensions and a significant fall in demand.
Unusually mild winter weather conditions in the northern hemisphere, together with a constant flow of NLG and adequately supplied gas storage inventories have served to push prices down on European and Asian prices.
Nevertheless, global equilibrium regarding gas is fragile, as confirmed by data from the first 6 months of 2023.
Let's dive deeper in this topic, looking at data regarding natural gas demand in OECD countries in 2022 and in the first two quarters of 2023, as demonstrated by data published by the IEA, International Energy Agency.
2022 data - the scenario
As previously mentioned, the global natural gas market has been through a tumultuous 2022, with decisive changes in both demand and prices.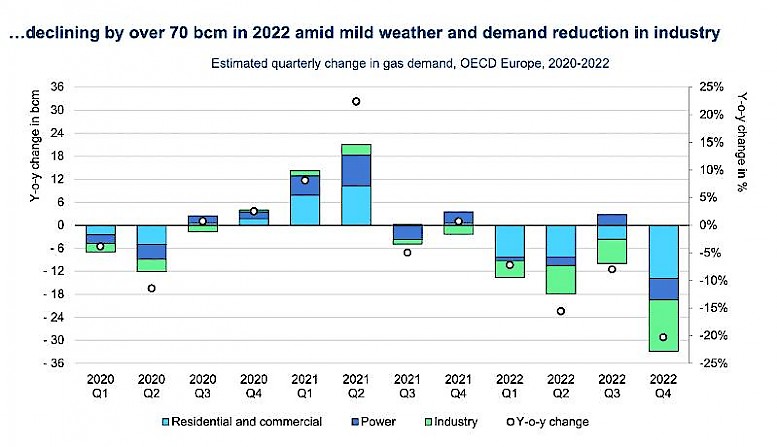 Here follow are the principal points regarding the performance of the natural gas market over the year, contained in the Gas Market Report Q1 2023.
Reduction in demand

Natural gas consumption in European OECD countries in 2022 has diminished by an estimated 13%, equal to over 70 million cubic metres. It is the largest drop ever registered during the entire history of the sector.

The reduction in demand has been particularly marked in the fourth quarter, with a decrease estimated to be about 20%, year on year, equal to 33 billion cubic metres.

Demand via the grid is down by 15% (34 billion cubic metres) in European OECD countries over the year.

Record prices

Natural gas prices reached record levels over 2022, causing a significant impact on the market;

The high prices have brought an unprecedented reduction in demand from the industrial sector, with a decline estimated as 20% (30 million cubic metres);

High energy consumption industries have endured production cuts due to high prices and switches to alternative energy sources wherever possible.

The effects of weather conditions

Unusually mild weather conditions have influenced natural gas demand. In particular, the heating requirements have come down in the milder temperatures of last winter.

In October and the first half of November, the mild temperatures pushed back the date for turning on heating in Europe almost by one month, causing a 30% reduction in grid demand during those months.
To sum up, 2022, has been a period of noteworthy change for the natural gas market, with a marked reduction in demand and record pricing levels.
First quarter data for 2023
The 2022 scenario pushed the IEA to forecast a further reduction in gas demand from OECD European countries equal to 3% in 2023, and a decrease in the energy sector of 15%, due to the expansion of renewable energy availability and increased supply of nuclear energy from France.
Nevertheless, a return to average climatic conditions could increase residential and commercial demand by 3%.
It is important to consider the effects of further cuts to Russian gas supply and a more stable equilibrium in the global supply of natural gas, which could generate a more significant reduction in 2023 demand.
That said, the balance of the global natural gas market over the first quarter 2023 is shown in the table below, from which we can see a further fall in consumption and production in Europe, whilst at a global level we can observe stable demand compared to 2022, with a slight increase in terms of production.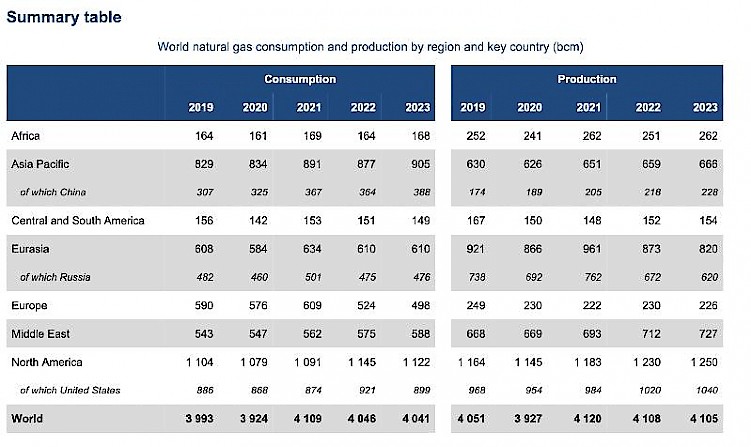 Second quarter data for 2023
In the Gas Market Report, Q2-2023, the IEA notes that the global growth of gas, which became negative in 2022, will most probably flatten and remain slightly uncertain for 2023.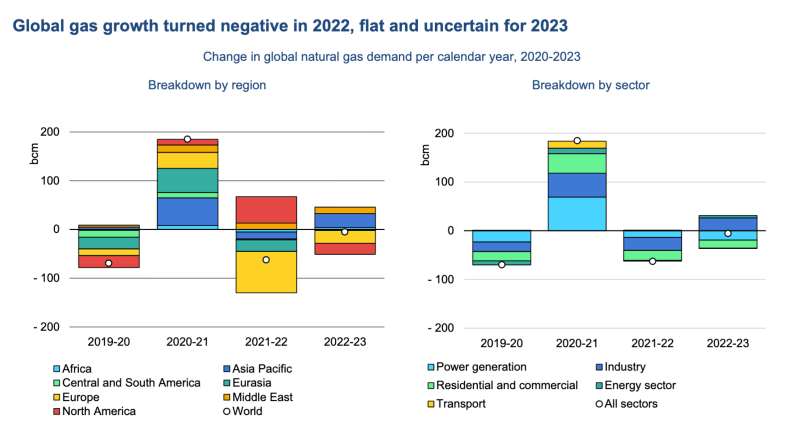 So moving forward, we can see how in 2023 global gas supply will remain lessened, consequently implying appropriate measures to ensure further difficulties for businesses and families are avoided.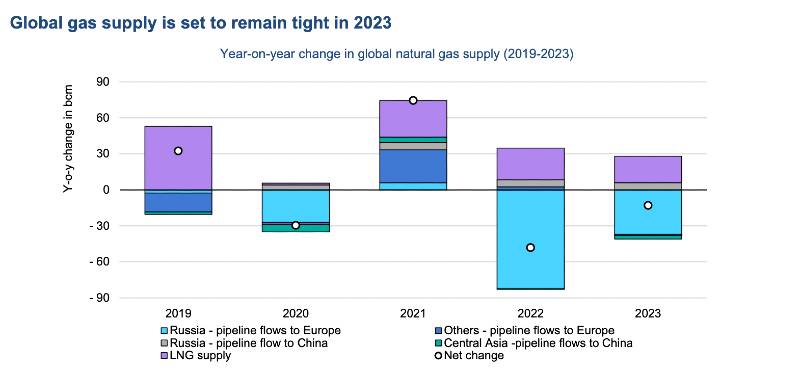 What is the scenario for gas demand in 2023?
It is predicted that gas demand in OECD European countries will diminish by 5% over 2023;

Gas combustion in the energy sector is forecasted to fall by about 15% due to the expansion of renewable energies;

Industry gas demand is forecast to pick up with an increase of roughly 5% in the third and fourth quarters of 2023, due to a reduction in gas prices;

Taking into account the reduction recorded in the first quarter, we can expect demand in the domestic and commercial sectors to reduce by 4% over 2023.
In summary, we bring you a table which highlights the forecast of global natural gas production and consumption by region for the second quarter 2023, in billions of cubic meters, from which we can assume that a small decrease compared to 2022 is expected on a global level.