IRIS LAB: the Consortium at the service of Industry 5.0
September 6, 2022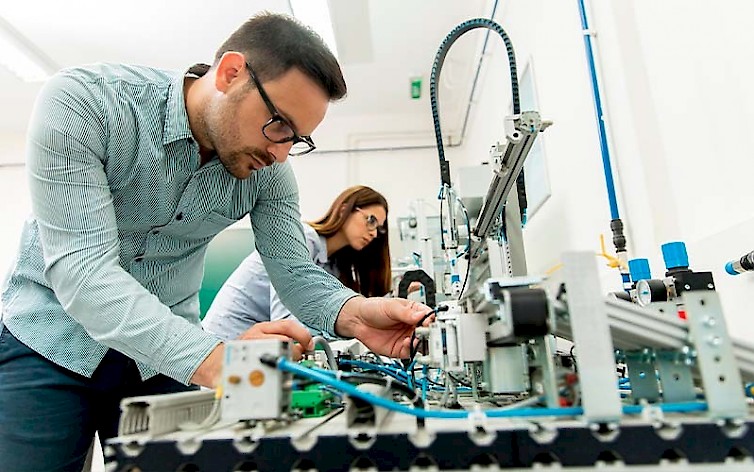 On Thursday, July 28, 2022, a new consortium of companies called IRIS LAB was established, with its focus on innovation, research and development, with particular regard to the industrial sector of high-performance electronic actuators and mechatronics drives in general, as well as artificial intelligence tools implementation.
IRIS LAB intends to move quickly towards the construction of projects aimed at Industry 5.0: a more sustainable, human-centric and resilient industry. The main protagonists of the project are Italian companies with a very high profile in the production of industrial machines, that have been able to find common points of convergence in order to carry out this ambitious project that aims to find new strategic, innovative and eco-sustainable solutions in the sector of mechanics.
High profile companies in the Italian and international market have joined IRIS LAB such as: ITEMA S.P.A., BONFIGLIOLI S.P.A., LAFERT S.P.A., Q.F. S.P.A., FAIST ELECTRONICS S.R.L. and CONSORZIO IRIS.
IRIS LAB will be a Research Center within which the companies participating in the project will actively cooperate with numerous already established university consortia, operating in the mechatronics and industrial electronics sector, active in scientific research in the field of electric drives with high dynamic performance, in high-efficiency static electricity conversion equipment, in advanced sensors and in the application of artificial intelligence systems for advanced diagnostics and for enabling Industrial IoT services.
The network of the Consortium involves both Italian and European Universities and Research Centers, as well as the most important European Doctoral School on power electronics, electrical machines and drives. IRIS LAB also aims to integrate into a virtual platform numerous university experimental laboratories, spin-offs, innovative start-ups and centers specialized in prototyping, testing and validation of industrial electric drives and electronic energy converters. This collaboration will develop, on the one hand, through highly qualified operational staff and training young university researchers involved in the project; on the other hand, through the establishment of laboratories and centers that allow the development and implementation of numerous innovative projects in the field of mechatronics and industrial electronics, from which the companies involved can directly benefit.
The project aims to constitute another fundamental profitable synergy for the sector - that is, between engineering and jurisprudence, through the creation of a specific data room that will have the sensitive task of controlling the constant flow of data created by research, and thus protect the precious assets in which the companies involved are investing.
We asked Prof. Giuseppe Tomasso (President of E-LECTRA) and Andrea Pezzimenti (CEO of FAIST Electronics BU) how this project fits within the strategies of the FAIST Electronics.
Giuseppe Tomasso: I consider IRIS LAB to be a very important opportunity for growth, thanks to which E-Lectra and Faist Electronics will be able to further consolidate their positioning in the industrial market. The Research and Development department of E-Lectra will form the initial core of the Consortium research center, thanks to the high level of expertise in power electronics and design, prototyping and validation of industrial electric drives. In addition to its expertise, E-Lectra will provide IRIS LAB with laboratories equipped for testing new generation devices to be used within electronic converters and control systems.
Andrea Pezzimenti: The IRIS LAB project represents a further step forward in the strategy of FAIST Electronics and FAIST group towards the integration of increasingly vertical products and services, to be used for the benefit of the markets in which the individual divisions of the group operate on a global scale (automotive, telecom, renewable energies, commercial vehicles and metering). We expect the possibility of opening a constructive exchange and a close collaboration with companies of the caliber of ITEMA Group, Sumitomo-Lafert and Bonfiglioli, to guarantee us a further convergence towards the sector of integrated products for industrial use and, at the same time, lay the foundations for an increasingly marked expertise in the integration of electronics and mechanics on very high-performance products.