Electric commercial vehicles: 90% increase in sales in 2022
October 4, 2023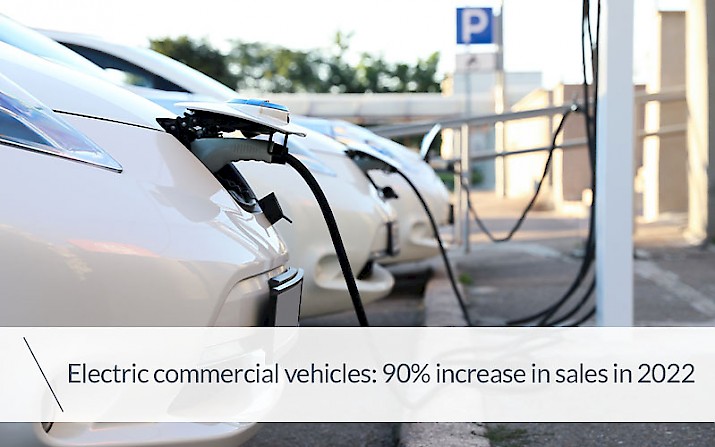 The automotive industry is undergoing a silent yet important revolution, with increasing interest in electric commercial vehicles, which begin to see higher penetration rates in their market.
Indeed, in 2022 the industry underwent a surprising transformation, with sales of electric-powered light commercial vehicles (LCV) recording an impressive jump in sales of 90%, despite an overall 15% fall year on year in sales of this category of vehicles.
This is what has emerged from the report "Global EV Outlook 2023 - Catching up with climate ambitions" published by IEA - International Energy Agency.
Furthermore, in 2022 we witnessed a similar phenomenon emerging in the bus and truck sector, with numbers which revealed a substantial change towards a more sustainable mobility.
Bearing this in mind, we will take a look at the trends in rapid evolution in the electric commercial vehicles sector, with a particular focus on a number of countries, where efforts to reduce emissions have brought about some exceptional results.
Sales data for electric commercial vehicles
Commercial vehicle fleets are undergoing a phase of increased electrification. Sales of electric LCVs across the globe have increased by over 90% in 2022, surpassing 310 000 units despite an overall reduction in LCV sales of almost 15%.
In 2022 almost 66 000 electric buses and 60 000 medium duty trucks were sold in the world, representing about 4.5% of all bus sales and 1.2% of all truck sales.
In places where governments have committed to reducing public transport emissions, such as in high density urban areas, sales of electric buses have reached even higher levels; in Finland, for example, electric buses made up over 65% of the fleet in 2022. High numbers have been recorded in other Scandinavian countries, Switzerland and Israel.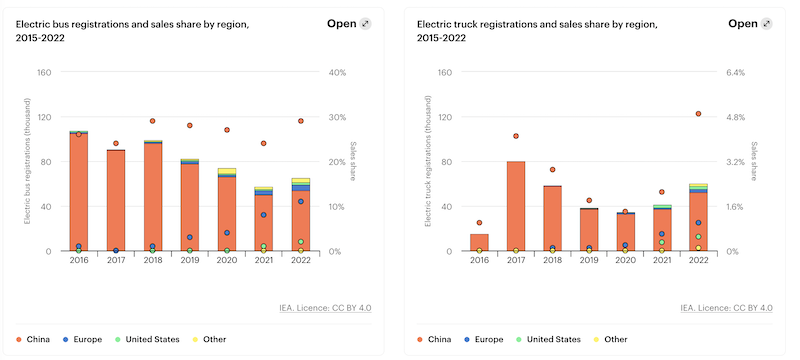 In China, sales of electric commercial trucks - both Light Commercial Vehicles and medium duty trucks - have dropped from a peak of almost
150 000 units in 2017 to just 59 000 in 2020, to then pick up again in 2022 with 186 000 electric trucks sold, despite a drop in subsidies for vehicles both in 2021 and 2022.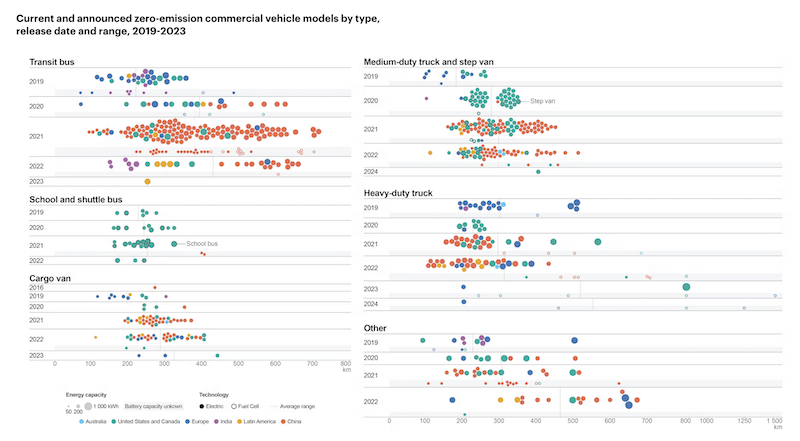 The data shows an increased desire for the electrification of heavy-duty vehicles.
In 2022, two hundred and twenty heavy duty electric vehicles made their way on to the marketplace, taking the overall total to over 800 models from 100 OEMs. A total of 27 governments committed to reaching 100% sales of ZEV (zero emission vehicles) for trucks and buses by 2040, and the USA and EU have proposed stronger regulation measures on heavy duty vehicle emissions.
Conclusions
As we have seen, 2022 has been a turning point for electric LVCs, with an increase of 90% in sales, showing a clear move in the direction of sustainable mobility.
The adoption of electric buses and medium and heavy-duty trucks has undergone surprising growth, even though in terms of total market share there is still room for improvement.
With increased focus on the environment and energy efficiency, the electric commercial vehicles industry appears to be ripe to continue with this unstoppable growth spurt towards a cleaner and more sustainable future.