The connected cars market: what we need to know
November 4, 2021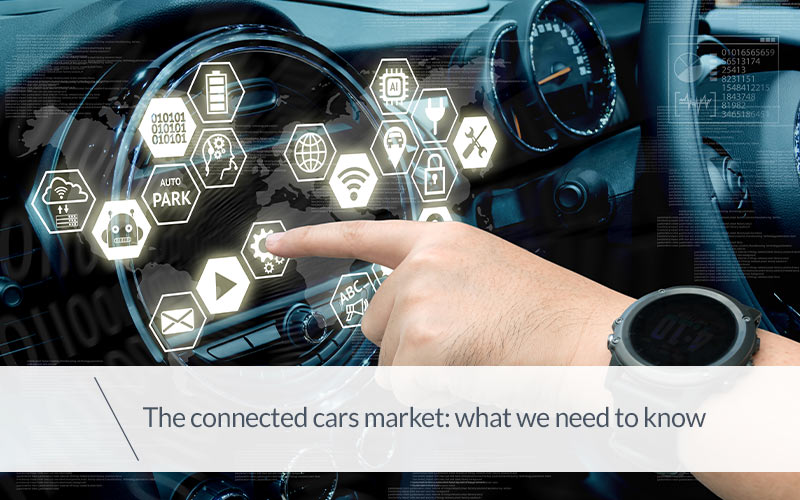 In 2019 the global connected vehicles market was valued at 63.03 million dollars, which is forecast to reach 225.16 billion dollars by 2027, with a CAGR (compound annual growth rate) of 17.1%.
Several are the drivers of this growth, including technological progress - in particular, with the spread of 5G networks - the production increase of cars equipped with these kinds of connected devices, and the increasingly urgent need for specific requirements in cars by consumers.
Indeed, consumers' desire to exploit the capabilities of their personal electronic devices and stay connected with the world even during car journeys is increasingly evident.
What exactly do we mean by connected vehicles?
If we want to explain that phrase in simple terms, we could just say that we mean a type of vehicle that has an internet connection incorporated in itself.
However, considering connected cars as just a vehicle which is able to connect to the internet is a limited definition, albeit basically a correct one.
Indeed, cars are not simply "connected", for example, just to apps for streaming music whilst driving, but also to other connected vehicles, to infrastructures, to service suppliers, to homes, and to the vehicle manufacturer and resellers.
The infographic below, created by Capgemini, contained within the report Connected Vehicle Trend Radar summarizes the idea very well.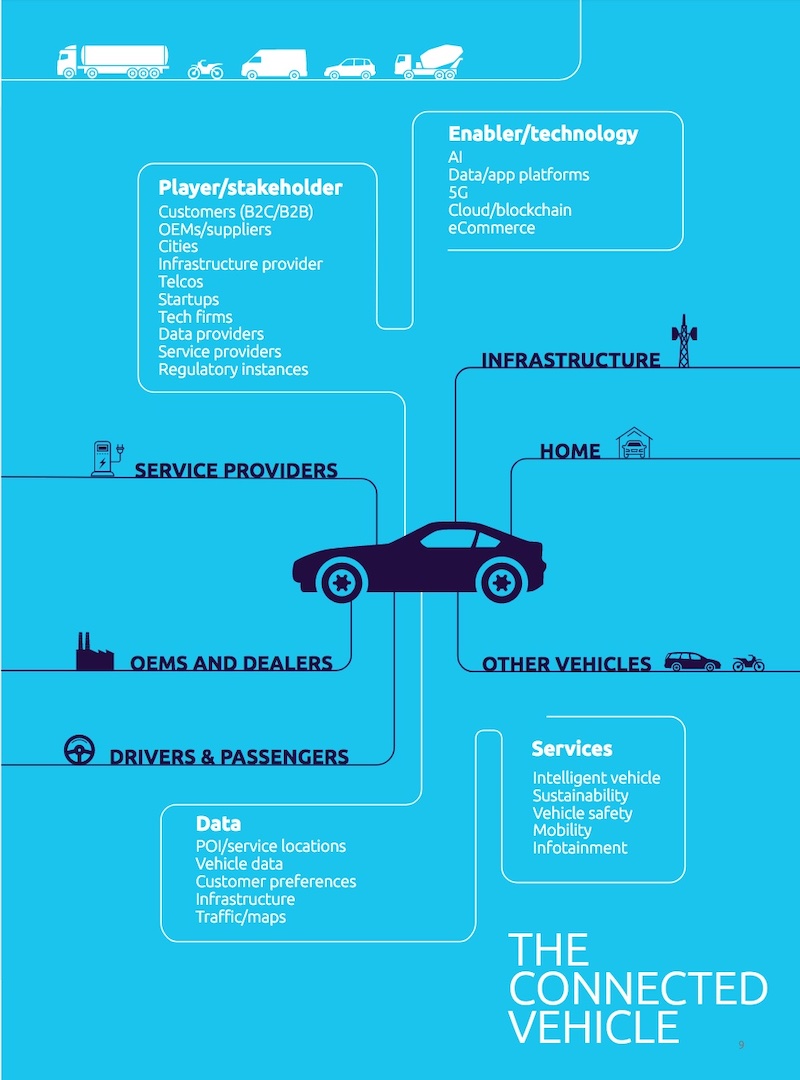 The spread and usage of connected vehicles
The above-mentioned report published by Capgemini also contains data relative to the diffusion of connected cars and to the way in which owners can use them.

According to findings made by Capgemini in 2020, roughly 44% of clients still do not possess services which are connected to their cars, and just half of those who do have connected services use them frequently.
This last finding has provoked concern amongst manufacturers, whose economic futures depend on the ability to accumulate and monetize data generated via the use of connected services that are present in vehicles.
In order to generate a better outlook, it will be necessary to offer consumers more efficient services. To date, however, external services, such as Apple CarPlay and Android Car, are decisively the preferred choice of users when compared to vehicle integrated services that are supplied by vehicle manufacturers.
Thus, collaboration between vehicle manufacturers and big tech companies is vital, even at the cost of surrendering a large part of gathered data to third parties.
The advantages of connected cars
An interesting article published on the World Economic Forum website in July 2021 lists 4 attractive advantages of connected cars.
They are the following:
Increased safety. By communicating with other vehicles, road infrastructures and pedestrians, connected cars should allow to drastically reduce the risk of road accidents, which each year are responsible for more than one million deaths globally.
A better consumer experience. As mentioned at the beginning of the article, users wish to transfer their "living room" experiences to their car, and expect their cars to carry out similar tasks to a computer or smartphone.
Environmental benefits. Car traffic improvements mean that connected cars allow congestion to be reduced along clogged roads and to optimise fuel consumptions.
Alternative cash flows for vehicle manufacturers. The automobile market could generate new sources of income, Offering services and additional features to consumers.
Europe should be top performer in terms of providing the best opportunity for business in the connected cars sector, due to a higher CAGR, compared to other regions, stimulated in particular by manufacturers such as Volkswagen, Audi, Mercedes and BMW.