SITUM students visit FAIST Componenti
February 17, 2023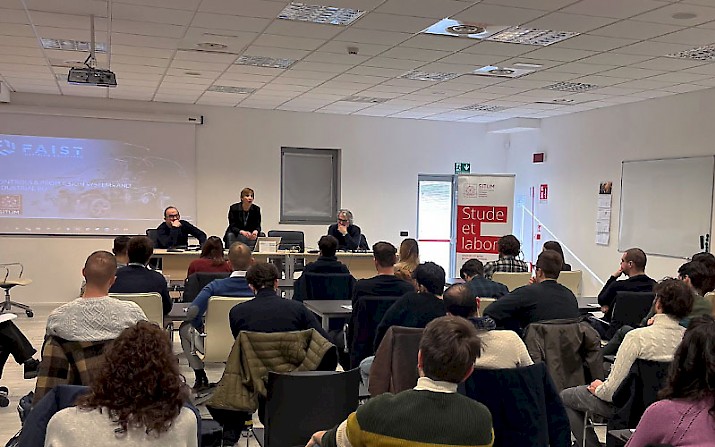 Today's young professionals often find themselves facing a context that leads them to ask themselves questions such as: training or professional growth? University or a company? Interdisciplinarity or entrepreneurship? Innovation or sustainability? On February 3 FAIST Componenti condensed these important issues in a stimulating and motivating meeting held in the Montone plant.
The graduating students involved take part in SITUM (School of Technological, Humanistic and Managerial Innovation), a project born in 2020 in the universities of Ancona and Perugia, joined this year by L'Aquila University, with the intention of investigating topics of interest to those approaching the world of work, leading the participants to acquire a contemporary vision of current and future prospects, of the necessary skills and possible development plans.
33 students in attendance and 15 remotely, divided between participants in the Sustainability Management and Engineering 4.0 careers, had the opportunity to see how the issues they hear about in the classroom translate at FAIST. But the most important and fascinating part for them was the direct contact with the production areas visited during the tour of the plant; this has been the most interesting moment also for the professionals who accompanied them, inundated with interesting questions and stimuli for possible future improvements.
Talking about the professionalism of FAIST were Eng. Tina Cortese (Engineering Team Manager) and Eng. Alessandro Stecconi (Application Engineering), who showed how the technical development of a product is managed from design to validation. In their support, Eng. Lara Cerquiglini (HR Manager) who presented an overview of the company, focused on the sustainability policy adopted, highlighting the professionalism in which the company invests today and will aim for tomorrow.
FAIST strongly believes in this partnership for the added value it offers, both to undergraduates and the Universities, and to the company and the area. We wish all the best to all SITUM students who are about to tackle the project that will allow them to experience the skills they have acquired in the field!