The global automotive outlook will remain stable according to Moody's
October 10, 2018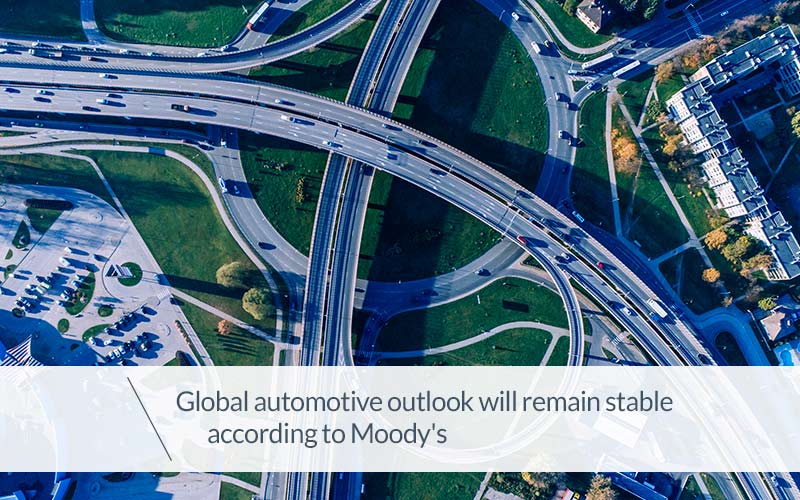 On the 18th September 2018 Moody's, a USA company specialised in financial research and analysis on private and state businesses, published a report entitled "Automotive manufacturing - Global, Modest growth in light vehicle sales to continue into 2019 amid thread to US tariffs".
According to Moody's, prospects for the vehicle manufacturing industry will remain stable over the next 12-18 months, reflecting expectations for constant demand in all key regions despite imminent challenges.
Moody's put out a press release which states:
"We forecast global light vehicle sales to grow 1.5% this year (2018) and 1.3% in 2019. While global auto sales so far this year support our full-year 2018 forecast, we see greater risks emerging that could hurt sales next year, including trade and tariff disputes, rising interest rates and higher fuel prices."
Growth in China and a downturn in the USA
Analysing the data published by Moody's, growth is forecast to increase in the next 12-18 months in China. Car sales in China are in fact set to increase by 2% in 2018, which is 3% down on 2017, and by 2.5% in 2019.
"Vehicle sales in China are a key factor in our global forecasts, but growth will remain much more modest compared to the double-figure percentage increases witnessed in 2016".

The situation regards light vehicles in the USA, on the other hand, is decidedly negative. This situation will worsen over the next few months according to Moody's forecasts, with a fall of 1.2% in 2018 and 0,6% in 2019.
An increase in interest rates, an increase in vehicle prices and the threat of tariffs on car imports may cause consumers to consider purchasing a used car or delaying a purchase.
However, sales will remain strong compared to historical data. Data reflects that sales will reach 16.9 million units in 2018.
Western Europe, Japan, India, Brazil and Russia
Moody's forecasts for western Europe are positive, with a growth of 2% in 2018 and 0.5% in 2019.
In Japan, on the other hand, following a dip of 0.1% in 2018, figures will reach 1.3% in 2019.
Growth will be strong regards demand in emerging economies such as India, Brazil, and the same in Russia, due to overall macroeconomic improvements.
Risks that the automotive sector will need to tackle
According to Moody's, the industry will need to confront a number of risks in the course of 2019, which may negatively affect the operational cycle. These will mostly be caused by the threat of new import tariffs and raw materials cost increases.
Furthermore, there is the need to take increasingly strict policies regards emission reduction, ever-changing customer preferences, bottom-line and cash flow pressures and continual technological innovations.