A glimpse of FAIST's testing capabilities: our laboratory infrastructures and staff
May 9, 2019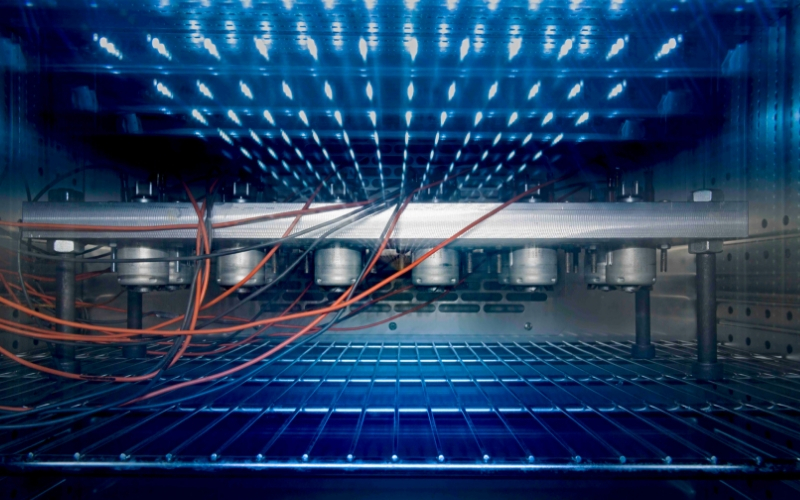 In more than 40 years of existence, FAIST changed and evolved in order to keep up with the challenges of the industries in which we operate, and to offer our clients products and services that are continuously improving. In order to do that, in the last ten years, we expanded our testing capabilities, product validation know-how and laboratories infrastructures. Nowadays a significant amount of our engineering resources is dedicated to the release of validation protocols, design and manufacturing of testing fixtures, to execute most of the tests needed to validate the designs we introduce into the market. Davide Valenti and Luigi Vittoria, as part of the product development and release team of FAIST Controls and Propulsion Systems division, give us an insight of FAIST's laboratories capabilities.
Briefly present yourself and your role in FAIST's testing laboratory.
D.V.: I am Davide, I am 24 years old and I started working with FAIST as a technician in 2014. Since last year, I have been working as Validation & Testing Supervisor. What I do is coordinating all the testing activities on our products upon agreement with our R&D and Product Engineering Teams, supervising maintenance of all our testing equipment. I also coordinate the activities of three colleagues working with me as technicians.
L.V.: I am Luigi, I am 37 and I have started working in FAIST in 2010. At the end of 2013 I was offered the opportunity to be in charge of all product testing activities in FAIST's lab, which I did until 2018. I supervised the installation of new complex testing equipment like a shaker with climatic chamber or a thermal shock chamber and I supervised the design of measurement instruments like the e-actuator testing benches.
Working for the automotive business among other industries, the validation processes are extensive and strict. Describe for us the scope of FAIST's automotive testing offerings and the type of tests performed.
D.V.: In our laboratory, we can conduct a series of different tests: endurance tests in our climate chambers with a temperature range between -75°C up to +200°C, vibration tests in combination with temperature and humidity cycles to simulate real vehicle condition and wear, thermal shock tests with sudden temperature changes to mimic and accelerate aging in our parts.
Out tests are conducted to validate products according to the strictest requirements and aim to prevent possible failures in the design. During testing, the products are exposed to extreme conditions in order to guarantee the highest standard of quality to our customers.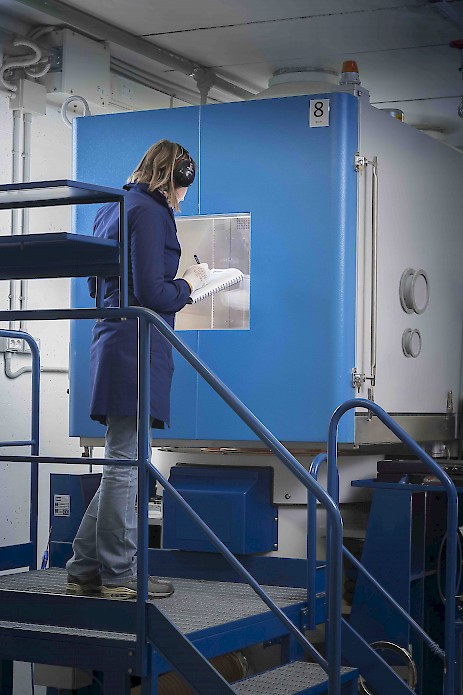 Describe the laboratory's infrastructure and staff.
FAIST's laboratory is part of the company facilities located in Montone (PG, Italy). Here we have all the equipment necessary to perform tests: six climate chambers, three ovens for laboratory testing, two shakers, and one chamber for thermal shock. Besides these systems, we also have additional equipment designed by us to measure products performance during test execution.
The laboratory staff is composed of three technicians: Veronica, who is in charge of all lab activities related to test execution and has been working in FAIST since 2008; Mihaela, responsible of products performance and dimensional measurement, who has been working in FAIST since 2009 and Francesco, who shares Veronica's responsibilities and has been working in FAIST since 2018.
How many prototypes are constructed and tested each year?
Every year we test a high number of products, about half of them as part of specific validation plans agreed with our customers. The remaining half is tested internally according to our R&D department to validate our designs or highlight features to be improved. Last year we tested more than one thousand components.
Roughly, which percentage of a product's entire validation protocol is performed in-house?
About 80% of all required tests are performed internally with standard equipment such as shakers, climatic chambers or even specifically designed equipment. The remaining tests are outsourced, for example salt spray tests, which require specific environmental conditions and precautions.
Finally, why should Tier 1 and OEM customers consider the use of FAIST's automotive testing services?
During the last years, FAIST has developed an extensive knowledge on product validation and release, mainly due to a close cooperation with our automotive customers. We have acquired a deep expertise on test execution through both the practice our equipment allowed us to do, and designing all testing fixtures and jigs internally.
Moreover, FAIST also offers a high level of flexibility when it comes to tests scheduling or tweaking specific test characteristics –we are proud to give our customers a valuable response for most of their testing needs.