Electric car sales double worldwide in 2021
June 21, 2022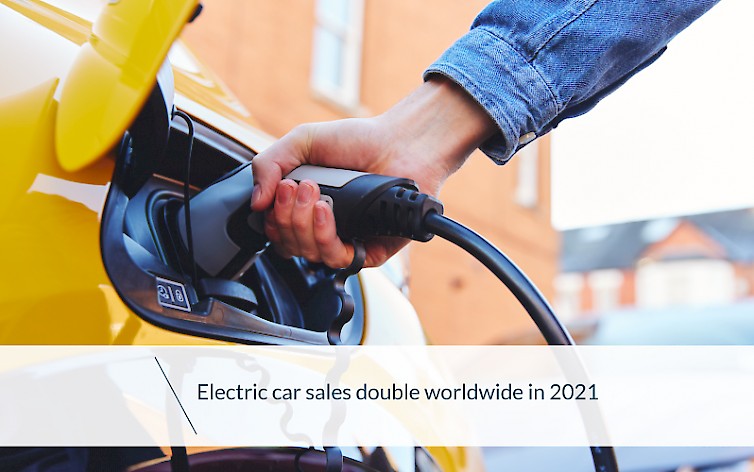 An interesting report published by IEA - The International Energy Agency last January entitled "Electric cars fend off supply challenges to more than double global sales", reports some thought-provoking data which help us understand the dimensions of the electric car phenomenon.
Despite the many problems associated with supply chains in various industries during the pandemic, the global electric automotive market grew decisively, tripling in 2021 compared to the number of EVs sold in 2019, reaching a total volume of 6.6 million vehicles.
This exponential growth is even more evident if we consider it in a longer time span: in 2012, global sales of electric vehicles over one year topped 130,000 units, which is equal to the units sold over a week in 2021.
Let's dig deeper in the data gathered by IEA about the global electric vehicle market.
From 0.1% to 9% of the global market
The pandemic surely tested the world economy, and in particular the automotive industry, which is still making efforts to achieve pre-pandemic levels. Despite this, electric cars are gaining pace in the automotive market, burgeoning more and more over the last two years.
in 2019 2.2 million electric vehicles were sold, equal to 2.5% of global vehicle sales
in 2020 the total market value of car sales shrank, yet sales of electric vehicles grew, reaching 3 million units, equal to 4.1% of total car sales
in 2021 electric car sales more than doubled reaching 6.6 million units, which is almost 9% of global car sales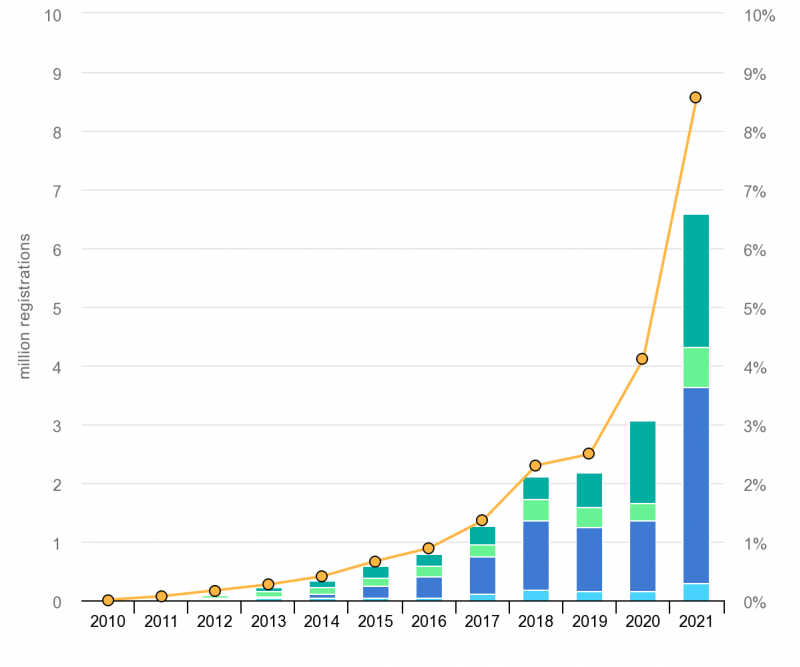 According to IEA forecasts, there are roughly 16 million electric cars in circulation across the world.
China is definitely the field leader
The exponential world's growth in electric vehicle sales has mostly been due to Chinese sales. In 2021 alone, more electric vehicles were sold in China than those sold across the entire world the year before.
This outcome has much to do with the governmental policy: the Chinese government set an official goal of 20% of market share for electric cars by 2020. A mix of government funding, increased availability of small EVs and the natural preference of the population, means that the sector will also grow over 2022.
The market for electric cars in Europe
After China, Europe is the main player in the expansion of the electric car market, and recorded an increase in sales of almost 71% in 2021, reaching 2.3 million units, of which roughly half were hybrid plug-ins.
Despite the automotive sector slow-down caused by the pandemic, electric car sales are achieving excellent results, also due to a mix, in this instance, of government incentives, subsidies and compliance with new standards regarding CO2 emissions.
Monthly sales in 2021 were the highest in the last quarter of the year, peaking in December, when European sales of electric cars exceeded diesel vehicle sales for the first time, accounting for 21% of the market.
Overall electric cars represented 17% of total sales in 2021 in Europe, with remarkable differences between the single countries. Norway, Sweden and the Netherlands are at the head of the ranking, respectively with 71%, 45% and 30%.
In terms of market share however, the leading countries regarding electric cars are:
Germany, the largest electric car market in Europe in 2021, with a share of 25% of total sales
UK and France, each with about 15%
Italy, with 8.8%
Spain, with 6.5%
Let's take a look at what is happening in the rest of the world, starting with the USA.
Sale of electric cars in the USA and the rest of the world
According to IEA estimates, the electric car market in the USA started growing again during the pandemic, in particular in 2021, a year when sales have more than doubled, exceeding half a million units.
This in turns means an increase in automotive market share (in recovery) accounted for by electric cars, which reached 4.5%.
Tesla is still the driving force in USA sales, accounting for approximately half of all EV sales, in decline however from the 65% achieved in 2020. The main reason for this decline can be found in the increased offer of electric cars from other companies.
China, Europe and the USA represent about two thirds of the entire worldwide automotive market, but total roughly 90% of electric cars, insofar as no such numbers have been recorded in other countries.
Indeed, in most other markets, electric cars make-up less than 2% of overall sales, and in large developing economies such as Brazil, India and Indonesia, market share is below 1% with no significant increases over the last year. In Japan, despite an increase in EV sales in 2021, their market share does not even reach 1% of the total.
South Korea and Australia are showing greater reactivity among the smaller markets. In South Korea electric car sales have more than doubled in 2021, after two years without any substantial growth, increasing their market share to 8%. EV sales in Australia have more than tripled in 2021, taking their market share to over 2%.
Conclusions
As highlighted by IEA, it is mostly government policies that are driving the growth of electric vehicles market, but their dynamism in 2021 also reflects a highly active year in the automotive industry.
The idea that the future of cars is electric keeps gaining traction and increasingly established, and the decarbonisation goals set by various nations can only work in favour of this automotive segment, which will occupy an increasing market share over the coming years.