The autonomous driving market is expected to surpass 54 million in 2024
April 20, 2022
The global autonomous car market size was a notable USD 1.45 billion in 2020. Still, the driverless vehicles market has undergone a significant slowdown during the Covid-19 pandemic, recording a fall of roughly 20% in 2020 compared with the 2017 - 2020 figures.
Fortune Business Insights underlined however highly optimistic forecasts for this segment over the short term.
According to the report, there will be an increase from the 1.45 billion dollars generated by the autonomous cars market in 2020 to 11.3 billion in 2028, with a subsequent CAGR of around 31.3% over the period in question (2021 - 2028).
This increase in sales should translate to an increase from 31 million driverless vehicles to 54 million by 2024.
But what exactly are we talking about when we use the expression "driverless vehicles"?
Driverless cars and the pandemic
The forecasts for growth over the next years are decidedly positive for this market segment because the pandemic sparked a series of conditions which are favourable to this kind of transportation method.
In particular, according to analyses carried out by Fortune Business Insights, there are two factors which the pandemic stimulated and which could, as a result, increase autonomous car sales:
The tendency for many people to prefer private transport as opposed to various forms of public transport.
An increase in sales and purchases conducted online, which in turn translates to exponential growth in the number of logistics vehicles involved in making deliveries. By relying on autonomous vehicles companies could reduce personnel costs and increase the size of delivery areas. For now, it is an experimental model, put to use in very restricted zones, but is probably destined to grow over coming years.
According to DHL, a 40% reduction in transportation costs per km can be achieved owing to autonomous technology-induced time saving. These benefits can then be extended to consumers. It is likely, therefore, that the commercial vehicles used in the logistics sector will be at the forefront of the application for this type of technology, and that passengers cars will follow.
As it often happens, after a recession, opportunities open up for many economic sectors, in particular those which require increased and more sophisticated technological assistance. Judging by the numbers above, this appears to be exactly the case.
Autonomous vehicles: just how autonomous are they?
In the introduction to this article, we cited some estimated numbers from Statista, according to which in 2024 we should reach sales of 54 million autonomous vehicles across the world, compared to the 33 million sold in 2019 (pre-pandemic).
However, we need to be precise defining what we mean by autonomous vehicle, because not all autonomous vehicles are born equal.
According to the SAE Levels of Driving Automation™ classification, autonomous vehicles are subdivided into 6 levels, depending on the level of actual autonomy achieved by the vehicle, starting from 0 to 5.
Level 0 represents the almost total absence of automation, whilst Level 5 indicates a fully autonomous vehicle.
Here follows an infographic which neatly summarises the SAE classification.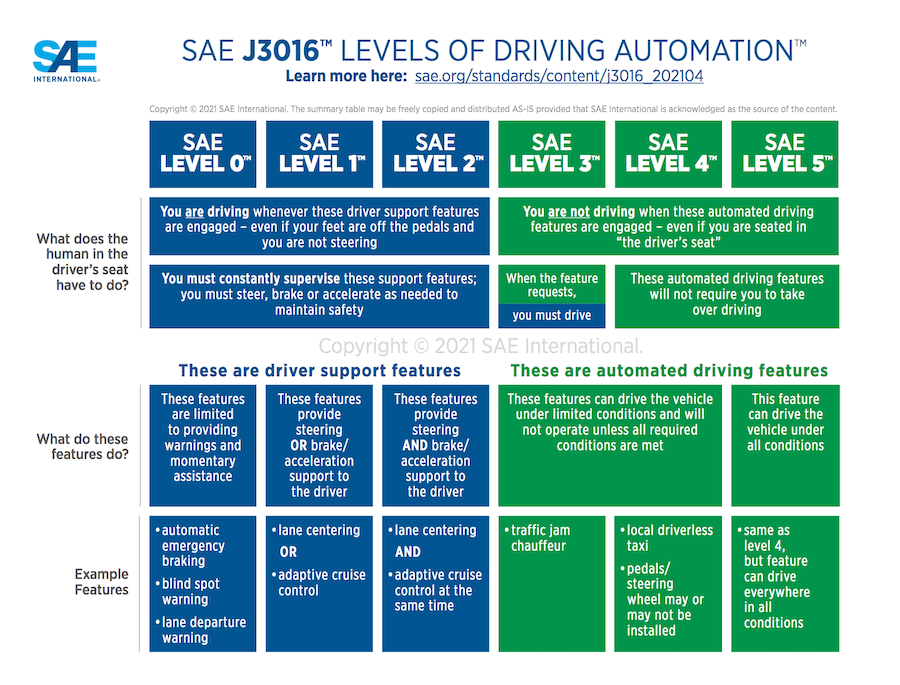 According to this differentiation, the autonomous car market tends to be split into two macro-categories: semi-autonomous (0, 1 and 2) and fully autonomous (3, 4 and 5).
In light of the data cited in the Statista article, we can forecast that by 2025 almost 60% of new vehicles produced in the world will have a level 2 autonomy.
By 2030, level 2 autonomous vehicles should be commanding the marketplace, and level 3 and 4 autonomous vehicles should by then represent roughly 8% of all new vehicles sold.
Stringent norms and governments' increasing support with regards to the safety of vehicles are the key factors driving the global market. Add to this the increasing urbanization, demographic growth, improved living standards, and rising purchasing power, and it is easy to see how the adoption of ADAS (Advanced driver assistance systems) will help us enjoy our car rides in a totally different way in the years to come.