5G will change the business of media and entertainment
July 25, 2019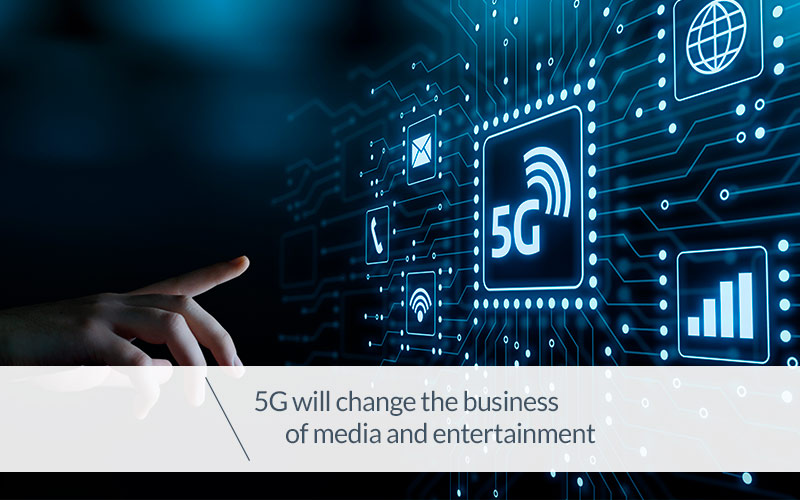 Development in 5G technology is increasingly associated with the telecommunications sector, so implicitly with smartphones and mobile devices.
This is most definitely the primary field of application but it is definitely not the only one.
Indeed, many differing sectors are poised to benefit from the various advantages offered by access to a faster, more stable and safer network and infrastructure.
For example, both the media and entertainment sectors are ready to open their arms to 5G in order to create new functions, or more simply, to improve the production and circulation of their own content.
Videos, games, music, ads, AR and VR, will all witness huge changes due to the 5G network, reducing the distance between content and the public.
In addition to these, we need to consider too new media, such as car-entertainment, 3D holographic displays, live experiences in stadium and similar venues.
The impact of 5G on the media industry
According to data published by Intel, in collaboration with Ovum, new 5G network capabilities will permit annual business revenue to reach $420 billion by 2028.
As is a normal occurrence, those who embrace this new technology and the advantages it offers, will enjoy a distinct competitive advantage compared to others in the sector
What can we expect from this union between 5G and the media and entertainment industries?
Read on to discover information from forecasts included in the Intel reports.
5G will offer new ways to interact with media.
5G will unlock real and virtual reality apps, which will generate more than $140 million in cumulative revenue between 2021 and 2028.
This will permit the development of an entire new channel to use in order to reach consumers.
Augmented reality will create a new way for people to connect with media, via virtual people and objects and augmented informative contexts.
The challenge for media lies not only in developing, creating and producing 3D content but also in creating a platform for the circulation and usage of that content.
5G will strengthen the digital advertising market
Advertising on mobile devices has been growing for a number of years, but 5G will pave the way for new and important earning opportunities with a forecasted market of $178 billion globally by 2028.
5G will play a vital role in the transition from traditional display ads, which today are vehicled via social and general media, to a system based on immersive and engaging experiences.
Strategies, metrics and KPIs which today drive the advertising market will become redundant due to the new role held by 5G.
5G video will cause a substantial change in the market.
Earnings from the video sector will grow with an 85% CAGR between 2021 and 2028 due to the presence of the 5G network.
This means multiple opportunities for growth for network TV and network suppliers, creating some very real competition with IPTV, cable and satellite TV.
Regards B2B, the 5G network will assist operators in exploiting mobile media growth by selling 5G network capabilities to OTT service providers.
The 5G network will bring the sense of touch to media.
Over the long term, 5G will permit the introduction new ways of experiencing content, in particular via adding a new sense to the process - touch.
By bringing together the advanced functions of VR, such as Ready Player One, and reactive tactile suits, it will be possible to take participants into a new sensorial dimension in accessing content.
This new kind of VR experience will come about in 2025 and will generate over $5 billion per year by 2028.
5G will put gaming on the frontline for innovation.
The online gaming industry has always been very aware of technological innovation, to keep one step ahead and offer gamers increasingly pleasing and surprising experiences.
The 5G network will also mean a faster network, with decreased latency, and thus faster streaming. Also AR and VR developments will literally revolutionise the gaming business.
AR games will represent over 90% of 5G revenue by 2028, equal to $35.7 billion on a global scale. Cloud gaming will surpass $100 billion a year in 2028.
Conclusions
5G will bring astonishing growth to the media and entertainment industries over the next few years, taking the global market value of $170 billion in 2018 to $420 billion in 2028, with a CAGR of 9.8% in 10 years.
It will be a huge change. Just think that by 2025 revenue from 5G will surpass those of 3G/4G.
4G is simply unable to supply a transformation at that level, and not switching over to 5G quickly could cost businesses dearly.